Big City Sessions - George Miserlis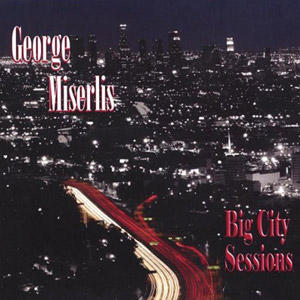 Track list
1. Come Back To Me
2. How Do You Keep the Music Playing?
3. T'Ein Afto Pou To Lene Agape
4. God Only Knows Featuring The Blanks
5. The Best Is Yet To Come
6. Didn't We?
7. That's All
8. What Is Love?
9. Bein' Green
10. How Deep Is the Ocean?
Produced by Colin R. Freeman
Click here to read reviews of Big City Sessions
---
Riding the Wave - The Blanks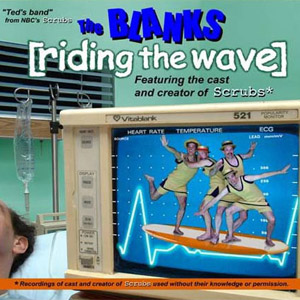 Track list
1. Superman
2. Charles in Charge
3. A Little Polish
4. They'll Never Know [spoken word]
5. Touched Up [spoken word]
6. Play On [spoken word]
7. Testy Tiger
8. Commandos (Attack!)
9. Good Old Days
10. Crowded Landscape [spoken word]
11. Holy [spoken word]
12. Happy Halloween
13. The Full Monty
14. Testy Tiger - reprise
15. What Now? [spoken word]
16. I'm in the Middle [spoken word]
17. Facts of Life
18. Flipper Theme
19. Speed Racer
20. The Riff Song
21. John [spoken word]
22. Do You Want? [spoken word]
23. If You Never Looked at Me [spoken word]
24. Boing Fwip
25. Underdog
26. Six Million Dollar Man
27. Testy Tiger - additional reprise
28. Love Having You [spoken word]
29. I'll Be Seeing You 1:41
30. The Ballad of Jimmy Durante
31. Back to You [spoken word]
---
Reviews
I was really grateful to receive such kind words from both Neil Flynn (The Janitor) and Ken Jenkins (Dr. Kelso) about my CD, Big City Sessions. Neil told me he plays it in his car! Whoo hoo! Thank you, Neil! And, Ken just listens to it! Thank you, KEN!
This album is so great. I have been playing it non-stop since it arrived. The vocals are wonderful. "How Deep is the Ocean?" Is my absolute favorite and what a nice surprise "God Only Knows" turned out to be!
George Miserlis' "Big City Sessions" showcases a brilliant voice finding its match with stellar instrumental arrangements in song after song. The result: a classic album and a treasured addition to any music lover's library.
George has a rich, timeless voice that is an aural delight, as well as a gift for selecting perfect songs to showcase his talent. Orchestrations are WOW! And The Blanks' GOD ONLY KNOWS is gorgeously arranged and performed (not to mention being one of my all-time favorite romantic songs). Get this CD now! You'll love it!
Wonderful big band stuff with a great voice! Also extremely pleased how you knew one of my favourite songs and you 'Blank'ed it up for us listeners! Amazing! Can't wait for more!!!
All I can say is WOW ~ This man can sing! His choice of music is extraordinary! This CD is a must have. Brilliant talent. Your songs made me think about good times and the exhilaration of being young. Thank you for the memories.